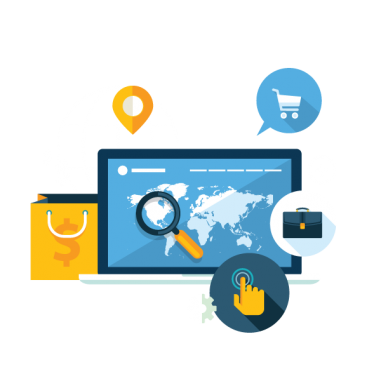 Search Engine Optimisation (SEO)
SEO is about appearing high in the search engines to bring you cheap leads after the initial investment of ranking your website.
Our Lead Generation uses local SEO to increase visibility by driving our websites and marketing to the top of local searches. If you have a local business, you need geographically-relevant leads which we provide through specifically targeted local search engine rankings that will launch your company to reach the target customer demographic in your market.
Our agency is an expert in how 'Google My Business' pages (the maps section in Google) can be used to improve any normal SEO campaign.
SEO has two parts.
On Site SEO: Your site must be optimized for SEO otherwise no matter what you spend on Off Site SEO you are fighting an uphill battle and you will be wasting money. We can either optimize your current website or rebuild it to be as powerful as possible in SEO.
Off Site SEO: This is the work done outwith your website to get search engines like google to rank you more highly for certain keywords that your clients are searching for. This is consistent work done daily and weekly that gradually pushes your website up through the rankings.
After the initial investment of ranking your website with SEO it will bring you the cheapest available leads from the internet without paying advertising costs.
SEO can be combined with one of our Digital Shopfront services where you take advantage of having multiple websites working to bring you customers. Ask for details if you would like us to consider your business for this.
32,8%
Increase in online transactions
148%
Increase in organic traffic
46%
Increase in mobile traffic
We also ensure that our leads are sourced in local searches not only on desktops, but also on mobile devices and tablets. Our goal is to drive outstanding business to you on top of your local traffic competitors.
With our approach working closely with you, we will correctly target your audience, which will significantly increase your profitability. Our team keeps our business' online listings accurate and optimized for your specific business and your potential customers, providing an easy access to contact information which gets your phones ringing.
Tell us about your project
Let us help you get your business online and grow it with passion
Get the best out of your online marketing budget and make you stay ahead of your competitors.
"We did the free consultation and market report with you. I decided to go ahead with 2 Digital Shop Fronts to get business from a wider area in Glasgow. Very happy with the results. The clients are a mixture of repair and install jobs and maybe 1 in 4 repairs turn into a boiler replacement or upgrade. Once the leads started coming in it more than doubled our work each month. Very happy and thinking about how we can handle another couple sites soon."
(Lightning call-back client) "The system is great. It works like a dream. Every contact form now turns into a phone call straight away and usually turns into booking a quotation. Before, when we just replied with an email we were lucky if any of the inquiries turned into business."
Sarah Barret
Kitchen Designer
"We did one Digital Shop Front in the south Edinburgh...." "..... We get a lot of business from it. Its a mixed bag of small and big jobs but that works for us. One of the first jobs was a £30k kitchen re-modellling which was nice. But since then theres been a complete mix. Very happy to keep going with you guys. Its been a solid part of our business for the last couple years."
James Hammond
Building Contractor