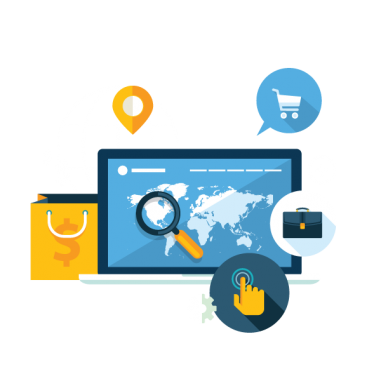 Local Marketing Solution
Local Online Marketing is about getting your phone ringing for orders and appointments and people coming through your doors.
If you have a business in Scotland or England that has its market locally, with a client base in the same region as the business, then Click Me Marketing is for you. We use local digital marketing strategies to draw new clients from search engines and social media leads from every major online funnel available. We do the work to get the phone ringing and people coming through your door and you are free to run your business.
We only work with businesses capable of providing an exceptional service as we want to have long term client relationships so that we can grow with our client's and the success we bring them.
We regularly publish new media on web and social media platforms capturing people searching for your products and services, in your target area.
32,8%
Average monthly growth
in 1st 6 months
148%
Increase in online sourced business
65%
Of online searches done on mobiles
The internet has changed a lot in the last 10 years and many businesses don't realise it. Local highly geographically targeted marketing is now possible online.
The size and scope of the marketing campaign will be tailored to the local area and the businesses we work with. We can work small campaigns for smaller areas or run regional campaigns combining multiple localized campaigns to cover larger areas.
Tell us about your business
Let us drive business to your door and get your phone ringing more.
Click Me Marketing is an investment you will be happy with.
"We did the free consultation and market report with you. I decided to go ahead with 2 Digital Shop Fronts to get business from a wider area in Glasgow. Very happy with the results. The clients are a mixture of repair and install jobs and maybe 1 in 4 repairs turn into a boiler replacement or upgrade. Once the leads started coming in it more than doubled our work each month. Very happy and thinking about how we can handle another couple sites soon."
(Lightning call-back client) "The system is great. It works like a dream. Every contact form now turns into a phone call straight away and usually turns into booking a quotation. Before, when we just replied with an email we were lucky if any of the inquiries turned into business."
Sarah Barret
Kitchen Designer
"We did one Digital Shop Front in the south Edinburgh...." "..... We get a lot of business from it. Its a mixed bag of small and big jobs but that works for us. One of the first jobs was a £30k kitchen re-modellling which was nice. But since then theres been a complete mix. Very happy to keep going with you guys. Its been a solid part of our business for the last couple years."
James Hammond
Building Contractor